Cat Sitting Visits
With our cat sitting visits you won't have to bother your neighbous, friends or family members to look after your cat(s) anymore!  You'll never have to panic when unexpected departures arise.
Your worries will be gone! Let us help.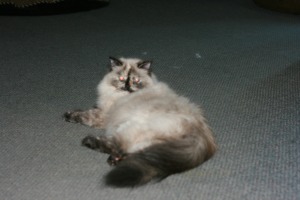 Our cat sitting visits are designed so you have the freedom to travel, pick up and leave whenever you want and have peace of mind your pets are cared for while you're away. 

Choose the length of visit:  15 minutes or 1/2 hour and go about your travels.

K9's in Motion cat visits include:
1. Replenish food and water
2. Clean cat litter
3. Collect mail, water plants
4. Update you on our visits via email, text or a simple note. 
Cat Visit Prices (Plus 13% tax)
Work Hours: Monday to Sunday 7am -9pm 
Please Note we will be closed Sundays from June 1st -September 8 
15 minutes              $10.00 per visit 
1/2 hour                  $15.00 per visit 
Additional Charges:
Holiday's - Civic/Statutory 
15 minutes            $15.00 per visit
1/2 hour                $23.00 per visit
January 1 - New Years   CLOSED
February 19th - Family Day

March 30th- Good Friday 
May 21st - Victoria Day
July 1st - Canada Day

September. 3rd - Labour Day  
October 8th - Thanksgiving

December 25th - Christmas Day 
December 26th - Boxing Day
Out of town visits:  $10.00 extra per visit

Contact us to book your cat visit today!
*Please Note: Any cancellations under 48 hours will be subjected to 50% of the scheduled service fee.